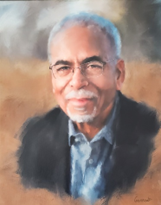 Carl Bourgeois (1950 – 2022)
Carl Joseph Bourgeois, 71, of Denver and Colorado Springs, Colorado passed away July 17, 2022, in Colorado Springs, Colorado.  He was born September 11, 1950, to Bobbie Stroud and Alfred Bourgeois in Colorado Springs, Colorado.  Carl graduated from Palmer High School and attended Colorado College.
Carl was a commercial real estate developer who found inspiration in neglected and forgotten properties.  Carl devoted his life's work to the restoration of the 2400 block of North Washington Street in Denver's historic Five Points community. Over the last the few years, Carl shifted his passion and vision to his childhood home of the former historic Hagerman Estate on the west side of Colorado Springs.
Carl is preceded in death by his parents, Bobbie Stroud Nelson and Alfred Bourgeois; brothers Anthony Bourgeois and John Nelson; and former wife, Carol Anne Lee.
Carl is survived by his daughters; Nicole (Ivory) Stewart (VA) and Ashleigh Bourgeois (CO); grandchildren Mogale Stewart (FL) and Nelson Stewart (VA); sisters Adrienne Bourgeois (MA), Michelle Bourgeois (CO), Judy Bourgeois, Lisa Bourgeois (Ahmed Abdur Razzaq) (LA), April Nelson (CO), Rose Nelson (Tony Tochtrop) (CO); brothers Stephen Bourgeois (OK), Charles Nelson (Holli Edward) (CO),  Rico Nelson (Julie Sanchez) (CO), and Randall Nelson (Rhiannon) (CO); stepfather, George Nelson (CO) and devoted friend Sheila King.  Carl is also survived by a host of nephews, nieces, cousins, and many close friends.
The family wishes to extend gratitude to Abode Hospice and Home Health, Brookdale Vista Grande Senior Living, Gentle Shepherd Home Care and The Springs Funeral Services (Platte Ave.)
No funeral or memorial service will be held in accordance with Carl's wishes.