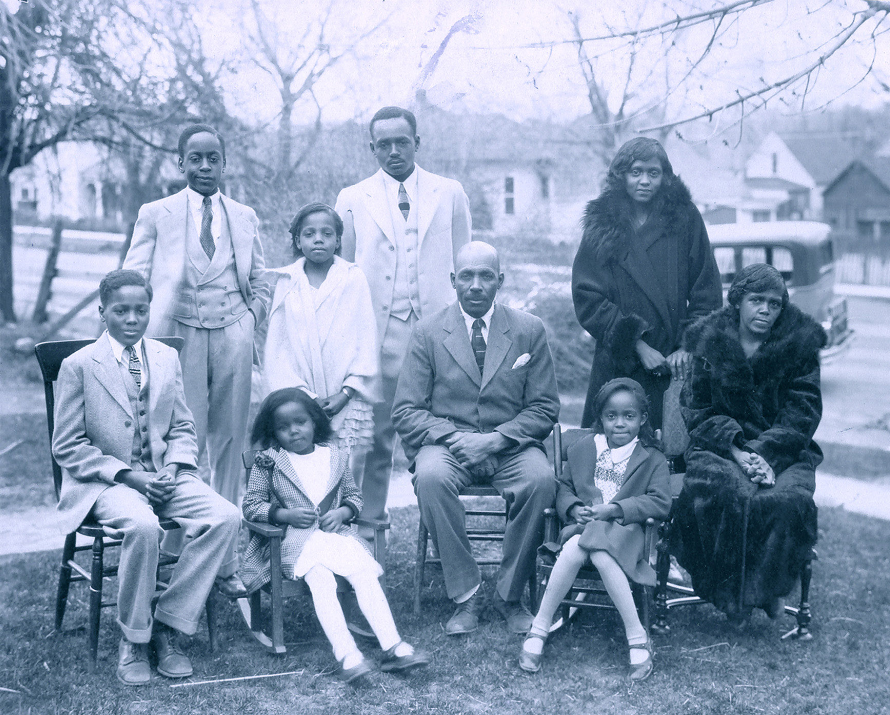 Stroud Family Colorado
From Out of Africa to the Trail of Tears and the Colorado Migration
The Stroud Family Colorado website chronicles the inspiring and historic African- and Native- American achievements of the pioneering Stroud family.
I'm Frank Shines, descendant of Kimbal Dolphus (K.D.) and Lulu Magee Stroud. My grandfather was Tandy Stroud (son of Kimbal and Lulu) and my great uncle was Dolphus Stroud, Phi Bet Kappa 1928 Olympic hopeful.
Learn more
My mother (deceased) was Vanessa Juanita Stroud (Tandy's daughter) who married my father,
Franklin Pierce Shines, Sr.
 in San Francisco, California in 1961. I am eternally grateful for my parents and my uncle 
Joe Stroud
 (Tandy's son) and 
Carl Bourgeois
(Bobby Stroud's son) who inspired me to pursue excellence, help others and better understand my family history. You can reach me at
fpshines@gmail.com
.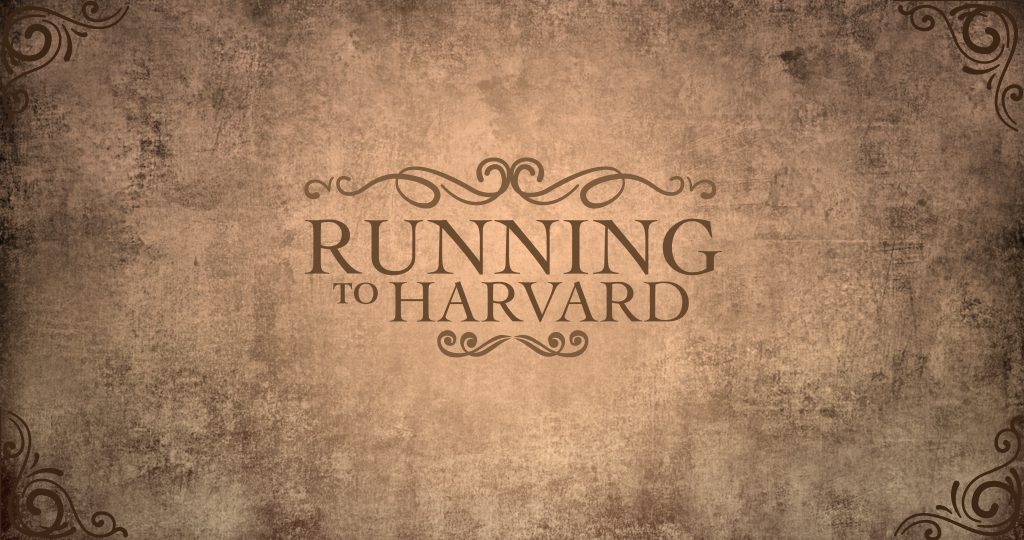 Running to Harvard
2024 Stroud Family Documentary
A Man, a Family and a Colorado 'Olympic City' that Dared to Dream
Running to Harvard chronicles the untold, true Olympic story of Dolphus and Tandy Stroud, two scholar-athletes whose father (K.D.) was born and raised on a Texas plantation, and the legacy of a pioneering family's impact on a city and a nation.  Also, Bobby Stroud Bourgeois-Nelson, Nina Stroud Pellerin, Lulu Stroud Pollard, Jack Stroud and the other siblings are featured.
The documentary team includes: Producer: Frank Shines-Stroud, Executive Director: Ralph-Michael Giordano, Assistant Director: Mike Pach, Cinematographer: Kyle Hanchette.  Interviews include: Colorado College, Colorado Springs Pioneers Museum, Sachs Foundation, Juanita (Stroud) Martin, Nicole Stewart, Percy Pellerin, Frank Shines and others.
Stroud Leadership Academy Coaches Underserved
The Stroud Leadership Academy's vision is: Imagine a world where everyone had an equal place at the starting line.
The mission of the Stroud Leadership Academy (SLA) is to develop leaders of character with critical thinking, problem-solving and digital literacy skills, a passion for lifelong learning and an understanding of the psychology of change.
SLA is a Stroud family community outreach and IBOC give-back initiative in support of RACE the Opera. SLA will support and assist with fundraising for the opera, training underserved communities and producing and distributing an upcoming Stroud family documentary, to be produced by TV actor and producer Tim Reid and distributed on LG|CY TV, Legacy of a People.
Upcoming 2024 Documentary Running to Harvard
A Man, a Family and a Colorado Community that Dared to Dream
This 2024 documentary, Running to Harvard, chronicles the untold, true Olympic story of Dolphus and Tandy Stroud, two scholar-athlete brothers whose father was born and raised on a Texas plantation, and the legacy of a pioneering family's impact on a nation.
Stroud Leadership Academy in Forbes
On September 2, 2022, Forbes Magazine featured the Stroud Leadership Academy in an article on Black entrepreneurship and high tech, as part of our partnership with GUETTO of Brazil.
The Stroud Leadership Academy is a giveback initiative of RACE the Opera which provides coaching and mentorship to underrepresented youth and entrepreneurs in the US, Africa and Brazil.
SLA imagines a world where everyone had an equal place at the starting line.
Juanita Stroud Martin Publishes "A Taste of Life"
Juanita Stroud Martin, daughter of Phi Beta Kappa scholar-athlete and 1928 Olympic hopeful, releases new book on Amazon.
The book provides an historical record of the remarkable, largely untold story of the Stroud family of Colorado through the prism of different family perspectives.
The full title of the book is "A Taste of Life: Prisms — Through a Glass Darkly" in hardcover.
Rev. K.D. Stroud's Anthem of Heaven Inspires Opera
K.D. Stroud was born and raised on a Texas slave plantation. During a dream he awakened with a melody in his head. He studied music theory and wrote down a sketch of the song.
Years later, his music and art prodigy daughter, Bobbie Stroud, updated the sheet music and played it on an organ while her sister Nina sang along. Nearly 100 years later the song was showcased to a near-capacity crowd at the Colorado Springs Pioneers Museum on Independence Day weekend, July 2, 2022.
Siblings Reunited
After 40 Years
More than 40 years ago, the children of Vanessa Stroud (Trudy, Frank and Lisa) were separated.
Lisa was about 2 1/2 years old at the time that the State of California separated her from older siblings Trudy and Frank.
This website, Lisa's dogged determination and the power of the human spirit all conspired to reunite the three siblings after 44 years.
The video here is Trudy (Stroud) Morgan's tribute to a family reunited.
Joseph Gray, HOKA & Sachs Foundation Pay Tribute to Dolphus Stroud
Colorado Springs resident, Joseph Gray, is a 7-Time USA Mountain Runner of The Year and a member of the Colorado Running Hall of Fame. In collaboration with his running shoe sponsor, HOKA, and the Sachs Foundation, Gray paid tribute to Dolphus Stroud, with whom he shared many parallels. "My desire to inspire the next generation of young Black athletes to try distance running, outdoor sports and mountain running led me to the story of Kelley Dolphus Stroud," wrote Gray.
2022-2023 Calendar
For 2022, there are several upcoming events:
Jul 2, 2022: RACE the Opera Performance Workshop w/ IBOC, 2pm local time at Colorado Springs Pioneers Museum (Stroud family history through Dolphus' Olympic journey)
Jul 3, 2022. Independence Day Celebration Garden Party & Community Gathering at Carl's in Colorado Springs, starting at 3pm local time
Aug 29, 2022. Inauguration of L. Song Richardson, President of Colorado College, 8:30am local time at the Fine Arts Center
Sep 2022. Virtual Family Reunion
Sep 22-25, 2022: United States Air Force Academy Class Reunion for Frank Shines (grandson of Tandy Stroud)
Spring 2023:  Opening of Bobbie Stroud Music & Art Pavilion
2022 Black History Month
Siblings Nina Stroud Pellerin and  Lu Lu Stroud Pollard recognized during Black History Month in Colorado Springs.
Lu Lu Pollard Park is named in honor of Lu Lu; Nina was the first certified Black teacher in the Colorado Springs public school system in 1954.
Dolphus Unveiling
On December 14, 2021, Colorado College and Saunders Norwood Construction recognized 1928 Olympic hopeful Kelley Dolphus Stroud and the Stroud family during an unveiling at the recently opened Ed Robson Arena.
In the words of Colorado College (CC), the purpose of the event: "The honoring of a family's legacy — and its lineage of perseverance — is enshrined in the Kelley Dolphus Stroud '31 Club Level on the fourth floor of CC's Ed Robson Arena."
RACE, the Opera
The Stroud family is working in collaboration with IBOC, Colorado College and the Colorado Springs Pioneers Museum on a next generation opera.
RACE, the opera, features Stroud siblings Tandy, Effie, Jack and others as it…
"…CHRONICLES THE JOURNEY OF DOLPHUS STROUD BLAZING A PATH FOR BLACK ATHLETES AND SCHOLARS FROM COLORADO SPRINGS TO BOSTON."  Dolphus shoes image  courtesy of C-Springs Pioneers Museum (CSPM.org)
  Stroud Scholars Program
The Colorado College Stroud Scholars has impacted the lives of 40 students in its first two years. Jim Burke leads the college preparatory program which was named in honor of siblings Effie and Dolphus Stroud.
A few months before the outbreak of the pandemic, the president of Colorado College invited several of us Stroud family descendants to the college to formally announce the Stroud Scholars program Two cohorts of about 20 students each have graduated from the program. We look forward to 25 more students in 2023.
Stroud Family Timeline
The Stroud family timeline runs from 1690 to 2020.
Prior to the founding of America, military and historical records, DNA analysis and family stories and publications show evidence of Stroud ancestry:
Indigenous tribes of French Canadian provinces (Boulducs)
Creek and Tawakoni  Nations in present day USA
Enslaved Africans (Ghana, Nigeria, Sierra Leone); some gained freedmen status for fighting against the British during the Revolutionary War
British and Irish arriving from present day UK (Magees and Strouds)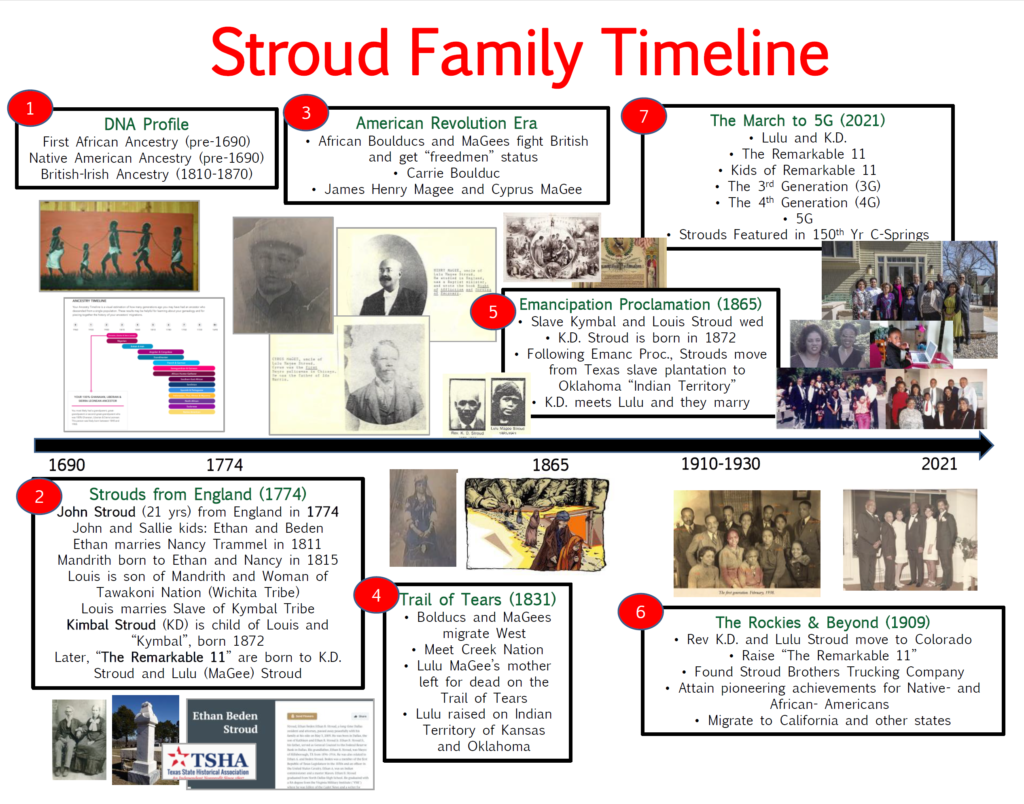 K.D. Stroud and Henry's "Sachs Foundation"
The vision of a Sachs Foundation came to life during a weekend picnic with Henry Sachs and the Stroud family in 1928.
Although Effie Stroud graduated as the top student at Colorado Springs High School (now Palmer High School), she did not receive any college educational opportunities because she was Black. Henry Sachs offered to pay for her to attend Colorado College. He later took up Rev. K.D. Stroud's (Effie's father) idea to create an educational foundation. It is still going strong.
2021 Night of White Lights
The 6th Annual Night of White Lights honoring the 42nd Season of the Colorado Springs Youth Symphony Association (CSYSA) was a ringing success.
It was a perfect Colorado Springs fall evening with a cobalt-blue sky and Goldilocks temperatures — not too cold, not too hot. But the music and dancing WERE hot as the 200 participants enjoyed an outdoor, COVID-safe evening of social interaction, philanthropy for our young musicians and fine food and spirits.
Dolphus, Effie  Stroud Honored at Robson Arena
The Stroud family has been invited to a ribbon-cutting ceremony for the opening of the Colorado College Hockey team's new Ed Robson Arena Saturday Sep 18, 2021 in Colorado Springs. A floor will be dedicated to Effie and Dolphus Stroud, first African- / Native- Americans to earn Sachs Scholarships and graduate with the highest academic honors at Colorado College. The CC Stroud Scholars is named in their honor.
Stroud, Bourgeois, Nelson, Martin, and Shines at Night of White Lights September 2021
Get Tickets for the 6th Annual Night of White Lights will kick off the 42nd Season of the Colorado Springs Youth Symphony! Event was held at residence of Stroud family member, Carl Bourgeois. The family is eternally grateful to Kevin Stewart, director of CSYSA.
This exciting September tradition is based on an event that originally took place in Paris. You can expect an elevated picnic experience (where all guests are dressed in white).  Plan your picnic dinner and help support the talented young musicians in the Colorado Springs Youth Symphony Association!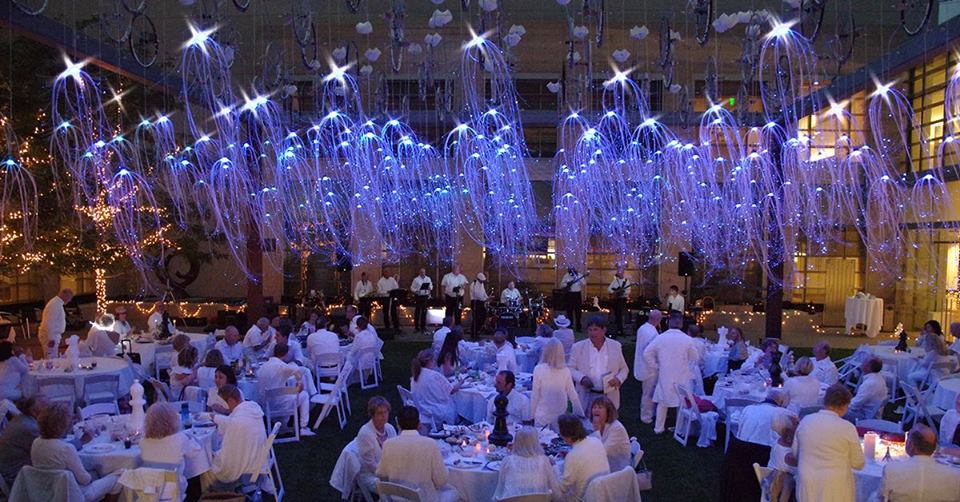 Colorado's KOAA News: Dolphus Stroud's 1928 Olympic Dream
The 2021 Tokyo Olympics reminds us of the importance of the spirit of the Olympics. KOAA Channel 5 News Reporter, Renae Skinner, tells the story of Dolphus Stroud. and his remarkable story in pursuit of his 1928 Olympic Dream.
In concert with the International Brazilian Opera, daughters of Dolphus (Juanita Martin and Connie Loury) are collaborating with Frank (Stroud) Shines on Race, the Opera based on the true life stories of brothers Dolphus and Tandy Stroud.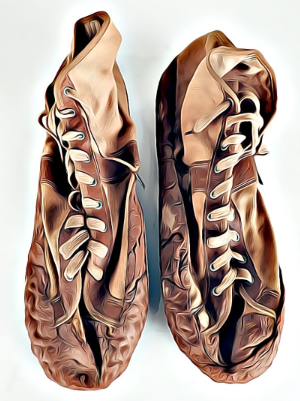 Dr. Barbara Stroud, Author & Psychologist
Pays it Forward with her Daughter
Dr. Barbara Stroud, a licensed psychologist with three decades of experience is the granddaughter of Tandy Stroud and daughter of Welvin Stroud. She interviews her daughter, paying it forward by investing in future generations.
Rachel Shines Wins 2021 USA Gymnastics Regionals
Granddaughter of Vanessa Stroud, Rachel Vanessa Shines wins at USA Gymnastics 8-state Southeast Regionals meet. Competing at Level 8, the 2021 Florida State champion, Rachel Shines, won Regionals at the age of 11 years old on 25 Apr 2021 (4/25/2021) in Montgomery, Alabama.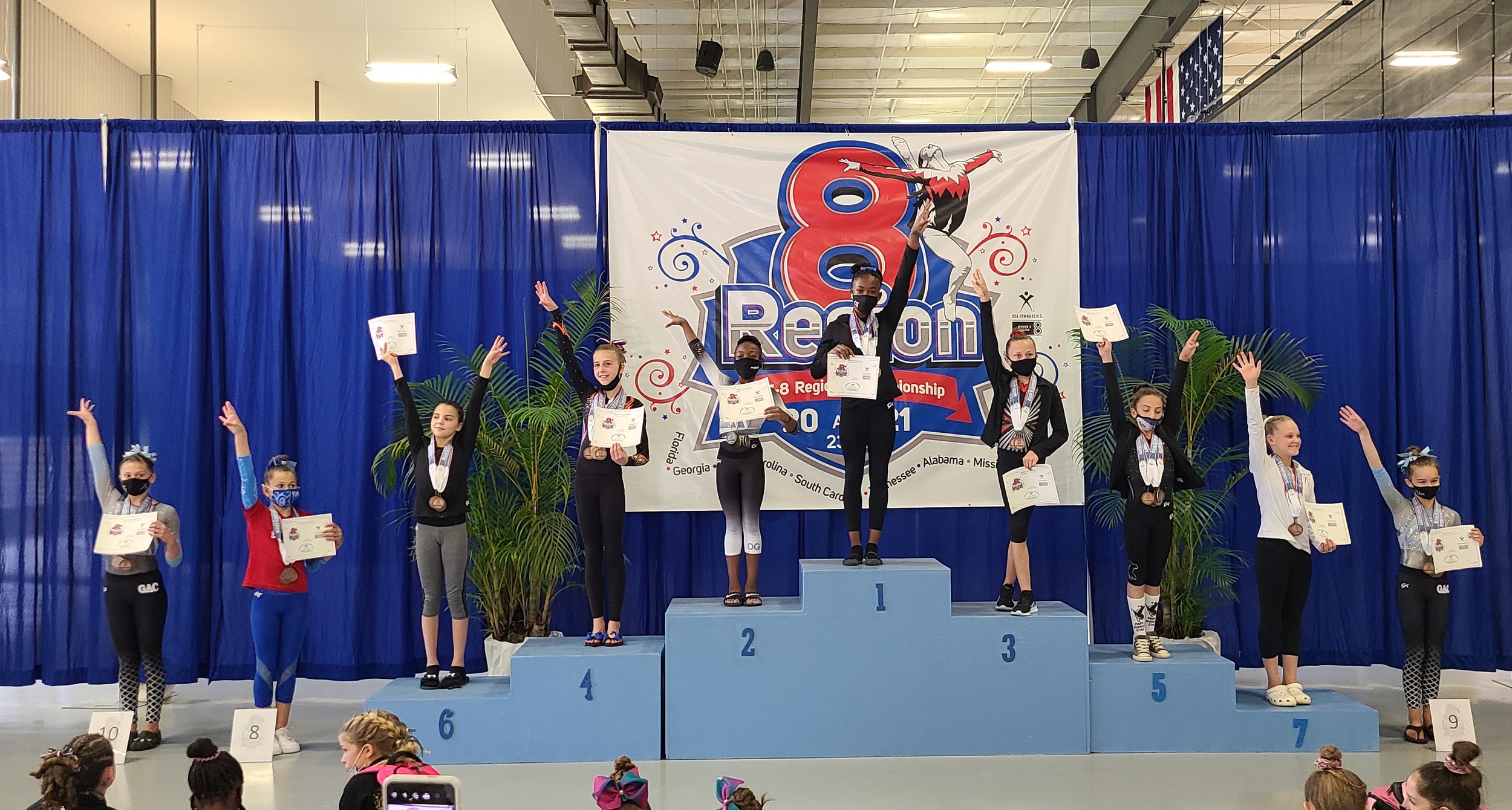 Stroud Family Recognized in 150 Years of Colorado Springs
As part of the 150-year anniversary of Colorado Springs, the Stroud family will be recognized in a series of commemorative events, exhibits and the historic Then and Now book; this due the family's many contributions to the city upon their arrival in 1910.
Stroud Family History & DNA
Stroud family historical archives, family stories and congressional hearings are validated by DNA analysis. Researchers, led by Max Planck Institute geneticist Cosimo Posth, reported their ground-breaking findings on human migration in a famous DNA study which was published in the journal Cell. Nina Stroud Pellerin captures history in video series.
Learn more
Drawing upon DNA analysis, the team traced the
 first modern human migration out of Africa
 and across six continents about 60,000 years ago. Then 25,000 years ago a group of humans living in Siberia crossed a small land mass into Alaska and migrated south into Canada and the rest of the Americas. Among those first Americans were my family's ancestors of the 
Creek Nation (Muscogee)
 and the 
Tawakoni (today's Wichita and Affiliated Tribes)
arriving in the Americas about 17,000 to 14,000 years ago. Our African lineage originates in the regions of Ghana, Sierra Leone, Nigeria and Sudan. Our European heritage is British, Irish, Scandinavian and French.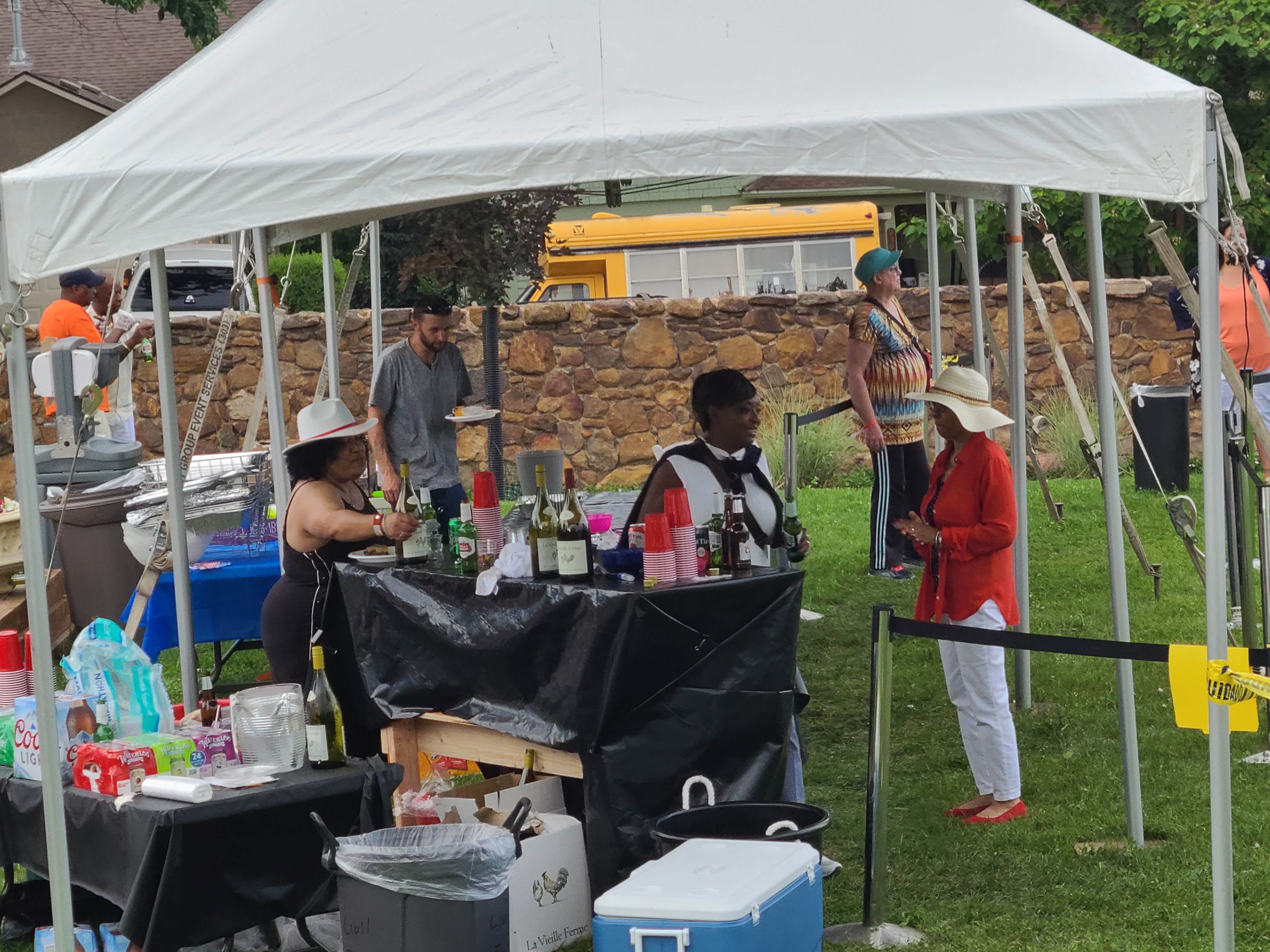 Carl (Stroud) Bourgeois Hosts Garden Party
In honor of Independence Day, COS-150,  real-estate renovator Carl Bourgeois hosted a 2021 July 3rd outdoor party for community, artists, performers, dignitaries and Stroud family members
Stroud Family Recognized in 150 Year
Anniversary of Colorado Springs
As part of the 150-year anniversary of Colorado Springs, the Stroud family will be recognized in a series of commemorative events, exhibits and the historic Then and Now book; this due to the family's many contributions to the city upon their arrival in 1910.
Carl (Stroud) Bourgeois Revitalizes Historic Hagerman Estate
During the 1900s, the eleven Stroud children worked at the Hagerman's farm / estate. The millionaire railroad magnate, James John Hagerman and his family, shared a strong bond with the Stroud family and helped the Strouds during the Great Depression. Carl Bourgeois, son of Bobby Stroud, has renovated the deteriorating home and is in the process of restoring other properties on the 4.1-acre parcel. Bourgeois is featured in this 2013 New York Times piece.
Stroud Family June 19th Virtual Event
Trudy (Stroud) Shines-Morgan will be hosting a Saturday June 19, 2021 Zoom event with support from the Stroud Family Media Committee at 2pm ET (11am PT). Committee members include Percy Pellerin, Leisha Stroud, Cosetta Stroud, Linda (Stroud) Potts and Larry Boyd. Session will honor our Dads and young men, and will include a fun family Jeopardy game and updates on events and people. Check your email for details.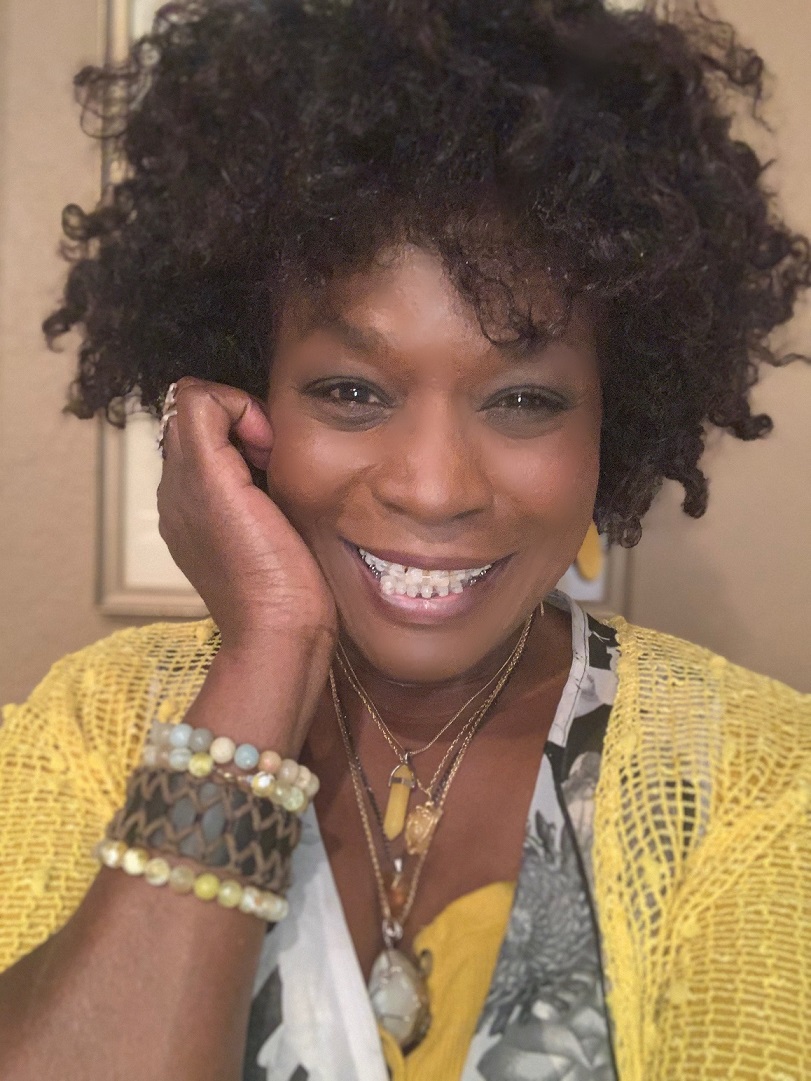 Revolutionary War & French Connection
We can trace our family history back to French Canadian (Carrie Bolduc), Indigenous tribes of Canada and the Irish Magees who became freemen (formerly enslaved) for supporting the fight against the British during the Revolutionary War. One of those freeman was Lulu's uncle, Rev. James H. Magee, statesman, abolitionist and author of Night of Affliction and Morning of Recovery: An Autobiography, published in 1873.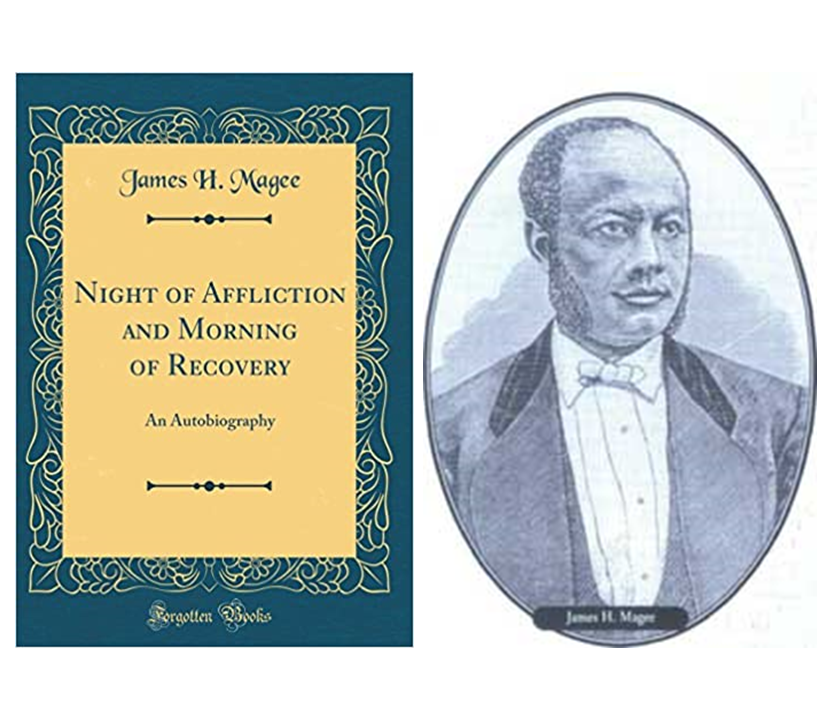 Frank Shines' DNA Profile
Stroud Family Colorado DNA. Based on my 23andMe.com ancestral DNA timeline, our first African ancestors arrived on slave ships in the American colonies (pre-USA) circa 1690-1720. Later, my 23andMe.com ancestral profile shows the first entrance of Scandinavian, French DNA (Carrie Boulduc) into our gene pool about 1720-1820 during the Revolutionary War. Then in the 1810-1870 time period (Trail of Tears and Emancipation Proclamation) British-Irish DNA appears, which explains the Stroud family name. Mandred Stroud was a Texas slave owner — and the grandfather of my great grandfather, K.D. Stroud.