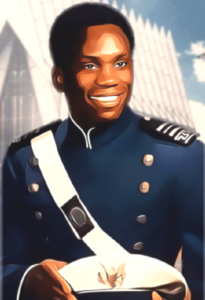 Frank Shines, Captain, USAF, MBA. Frank Shines earned Presidential appointment to the US Air Force Academy, trained and competed with Olympic athletes, flew Air Force jets and traveled the world as an award-winning business and technology consultant for IBM, Ernst & Young and Pilgrim Software. Frank is the Continuous Improvement Leader of the Business Transformation Office at RTI Surgical and a spokesperson for the family's Stroud Scholars Program, Colorado College. He is currently working on Race the Opera in his spare time with composer Joao Rocha and IBOC
Frank Shines
Franklin Pierce Shines, Jr. was born in Redwood City, California in the heart of Silicon Valley and went on to work in the technology and consulting fields for the U.S. Air Force, IBM and Ernst & Young with a focus on healthcare and life sciences. Frank, a Lean Six Sigma Master Black Belt, is currently the Leader of Continuous Improvement at RTI Surgical, which produces biological implants used by surgeons for their patients.
In partnership with his brother Granison Shines, Frank Shines published Let in But Left Out: Leadership, Faith & Knowledge in the Age of AI, Coronavirus & Fake News. The October 2020 released book chronicles the history of the Stroud and Shines family within the context of struggle and adapting to changes brought on by pandemics, globalization and accelerating technology advancements.
Brief Biography
Frank Shines, Jr. is the first son, and second and final child born to Vanessa Juanita Stroud and Franklin Pierce Shines, Sr.
Frank was born at Sequoia Hospital in Redwood City, California on July 13, 1963. His parents divorced when he was three years old and he grew up in the public housing projects of Oakland at a time when that city had one of the highest crime rates in the nation. Despite racial injustice and poverty, with the help of coaches, teachers and the re-entry of his father into his life, Frank went on to graduate from Cascade High School with academic and athletic honors and earn a Presidential appointment to the United States Air Force Academy from President Ronald Reagan.
While at USAFA, Frank was the captain and MVP of the Division I NCAA men's gymnastics team, studied leadership and engineering and learned to fly planes. Following a summer spent traveling across Europe by train, Frank entered Undergraduate Pilot Training (UPT) at Williams Air Force Base near Phoenix in Arizona.
Captain Frank Shines served his country for eleven years active duty military and four years reserve. He went on to work as a business and technology consultant with Ernst & Young, IBM and Pilgrim Software and to advice corporate executives lead teams around the world. He currently leads innovative problem-solving initiatives at RTI Surgical a human tissue biologics firm that serves surgeons and their patients.
Family & History
Frank Shines is the great grandson of Rev. K.D. and Lulu Stroud and the grandson of Tandy Stroud, the couple's fifth child. Frank's mother, Vanessa Stroud, was born in Colorado Springs, Colorado and grew up in the San Francisco Bay Area, where she met Franklin P. Shines, Sr.
Vanessa and Franklin, Sr. married in San Francisco, California and soon started a family. Vanessa's first birth resulted in twins, Trudy and Judy. Judy died a few days after birth. Fifteen months later, Frank, Jr., their first and only son was born.
Key Accomplishments
Survived crime, poverty and racial prejudices of Oakland, CA
Earned a Presidential appointment to the U.S. Air Force Academy (USAFA)
Learned to fly soar planes, the T-41 Mescalaro, Piper trainers and military jets
Earned a B.S. (USAFA) and MBA in Marketing Statistics from National University of Sacramento
Received Management Engineer of Year (USAF), the Ernst & Young Re-engineering Award of the Year and twice earned IBM Golden Circle
Married the remarkable and loving Michelle Graham of Jamaica
Both parents raised a lovely and caring nationally ranked All-Around Gymnast and National Honor Society scholar, their one and only daughter
Published by John Wiley and sons and self-published two books, The New Science of Success and Let in But Left Out