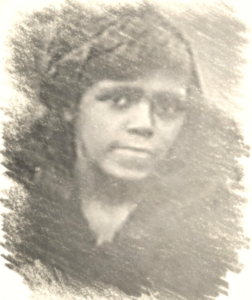 Lulu Magee Stroud. Lulu Magee  Stroud of the Creek Nation rose to prominence as a Colorado socialite and deaconess of St. John's Baptist Church. She married Rev K.D. Stroud and raised eleven (11) remarkable children who set the pace for pioneering achievements in America for people of color, starting in 1910.
Lulu Magee Stroud
Lulu Magee Stroud was born Rosanna Lucinda "Lulu" Magee on Indian Territory (current day Oklahoma). Lulu was a member of the Creek Nation and her grandmother died during the march of the Trial of Tears. She married Langston University grad, K.D. Stroud and  moved to Colorado Springs where the couple raised a family.
In his book, The Invisible People of the Pikes Peak Region, John Stokes Holley wrote of Lulu: "She encouraged good scholarship, honesty, cleanliness, and good manners in her own family and among other young people who were welcomed into the Stroud home."  "She promoted music and arts at home and in the community…"
Brief Biography
Lulu Magee Stroud was born in January of 1882. She is a descendant of Carrie Bolduc (French Canadian) and the Irish Magee family, who fought in the American Revolutionary War. Her mixed race (African, Irish, French Canadian) slave ancestors were granted their freedom for fighting against the British and given "freedmen" status. Some of her ancestors left the northeast colonies and migrated into the Southeast, marrying into the Creek Nation prior to the Trail of Tears. Lulu's grandmother marched the Trail of Tears and died along the way. Her story is told by Welvin Stroud (son of Tandy Stroud), in his book, Dust, in a poem called "Tandy's Children."
Lulu was born on Indian Territory which is now the state of Oklahoma. She was one of the First Nation native American children that attended the Catholic missionary schools, where she learned some English. As a young lady in her late teens, early 20s, she served as a house maid for a very wealthy white family where she learned social etiquette and more of the English language.
Family & History
Lulu Magee Stroud was a mixed race member of the Creek Nation. As noted earlier, her roots can be traced back to the French Canadian Bolduc family and the Irish Magees. Her ancestors migrated from the Canadian / New England region and settled in the southeast as part of the Creek Nation. The U.S. government forced them from their family during the Trail of Tears march, forcing them to resettle in Indian Territory (now Oklahoma).
For a different reason, K.D. Stroud's father and grandfather moved his family from a Texas slave plantation to Indian Territory. Grandfather Mandred Stroud feared for the safety of his son Louis and his mixed raced family if they remained in Texas. Because of carpetbaggers, taxes and the recent abolishment of slavery, Mandred could no longer make a living from the slave plantations of the past.
It was love at first sight, with K.D. Stroud later telling his daughter, Nina, that his mother was the most beautiful woman he had ever laid eyes on. Lulu married K.D. Stroud, 11 years her senior at a small church in what is now Chandler, Oklahoma. The couple moved their family to Colorado to escape school segregation and racism that resulted when Indian Territory became the state of Oklahoma.
Key Accomplishments
One of the fits Creek Nation children to learn English and participate in elementary school education through the church missions
As a housekeeper, Lulu learned American social etiquette, which helped her to relate to — and connect with — prominent families of Colorado
Was the first non-white member of the Colorado Springs Fine Arts Center (Colorado College).
Together with her husband, she raised 11 lovely children
She was recognized and admired as a prominent socialite in the Colorado Springs community.  Her connections included railroad magnate James John Hagerman (Hagerman Mansion) and Henry Sachs (Sachs Foundation).
Her grandson, Charles Bourgeoise, recently restored the Hagerman Mansion