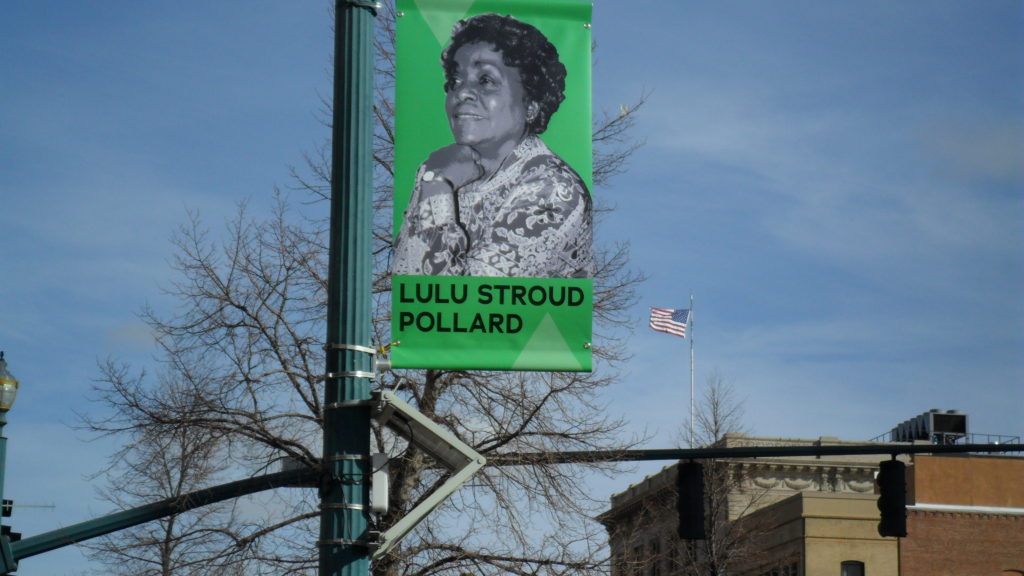 Lu Lu Stroud Pollard is a Colorado pioneer and icon with a park named in her honor (Lu Lu Pollard Park); this for Lu Lu's work as a Colorado historian and curator. Much of her work and artifacts are maintained in the Colorado Springs Pioneers Museum and mentioned on KOAA News 5.
Lu Lu Stroud Pollard
Lu Lu Stroud Pollard (1917 – 2006), was the eighth of eleven children born to the Rev Kimbal Dolphus (K.D.) and Lulu (Magee) Stroud. Lu Lu attended Prairie View State College in Texas and graduated in 1941 from Langston University in Oklahoma. Her high academic achievement earned her a full tuition scholarship. She was a Colorado icon who was inducted into the Palmer / Colorado Springs Hall of Fame for her work in achieving racial harmony.
Brief Biography
Lu Lu Stroud Pollard was born in Colorado Springs in 1917. Like many of her siblings, she would go on to break down barriers for women and people of color during her nearly 90 years of life.
Family & History
Born to K.D. and Lulu Stroud of Colorado Springs, Lu Lu was a 1933 graduate of Colorado Springs High School (now Palmer H.S.) and Langston University. Her early work spearheading race relations and fair employment practices, were instrumental to Colorado becoming the second nation to enact the Fair Employment Practices law in 1950. She became the first black person selected to be employed in the civilian office of personnel at Fort Carson in Colorado Springs. She rose to the position of the Head of the Accounting Division. In 1973, she was promoted to the Director of the National Office of Equal Opportunity for the Military Traffic Command in Washington, D.C. Lu Lu founded the Negro Historical Association of Colorado Springs and she received numerous awards and honors.
Key Accomplishments
Inducted into the 1999 Palmer High School Hall of Fame
Earned scholarship to Prairie View State College and Langston University
Assistant Treasurer of Langston University and graduated with honors
During WWII became Head of International Accounting and Purchasing for US government
Head of Accounting for Fort Carson
Author, Retirement – Black and White
Recipient of countless national, regional and local awards, citations and honors
Co-founded Negro Historical Association in Colorado Springs